Get Wrapped in Stone with Bill Stewart
Sunday September 27, 2015 1:00 PM - 2:30 PM
Kariton Art Gallery, 2387 Ware Street, Abbotsford, BC (
map
)
posted by Aymee Leake
Experience, explore, and create art with the Abbotsford Arts Council for BC Culture Days.
From September 25, 26, and 27 the AAC will host five free and interactive arts and cultural activities as part of a provincial celebration of the arts.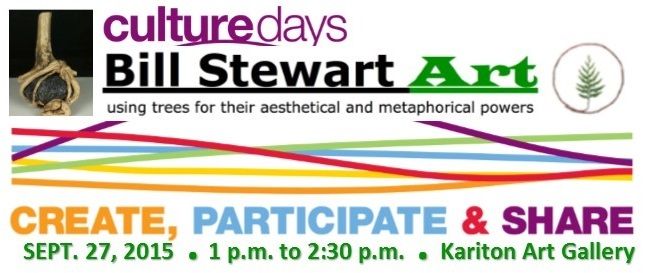 Sunday, September 27, from 1 p.m. to 2:30 p.m. organic sculptor Bill Stewart will present an artist talk at the Kariton Art Gallery (2387 Ware Str.) as a part of his exhibition with encaustic painter Myriame Gabay, "Coalesco & Encausticus".
Bill will lead the discussion on how he persuaded tree roots to grow around river rocks.
For Bill, a finished piece is a years-long process from planting and growing to drying the wood. A major component of his work takes place during the growth process, when he nurtures the tree's roots to grow around river rocks, creating more metaphoric possibilities. Register at billstewart.eventbrite.ca